Description
Key features
Stereo power amplifier, class AB

Toroidal transformer custom made in the Rotel factory

Filter capacitors made in Britain (4 x 10000 uF)

Power: 2 x 130W, 8 Ohm (20Hz–20kHz)
Tech specs
Link producător:
Dimensiuni produs
431mm x 144mm x 340mm
Alte specificații
Power: 130 W/Ch (All channels driven, 8Ω)
Harmonic Distortion (THD)(20Hz–20kHz): <0.03%
Frequency response: 10Hz - 100kHz ±0.5dB
S/N ratio: 120 dB
Gain: RCA - 26.5 dB; XLR - 22.5 dB
Output impedance: minimum 4 ohms
Input sensitivity: RCA - 1.5 V; XLR - 2.5V
Input impedance: RCA - 12kΩ; XLR - 100kΩ
Dumping factor: 450
General presentation Amplifier Rotel RB-1552 MKII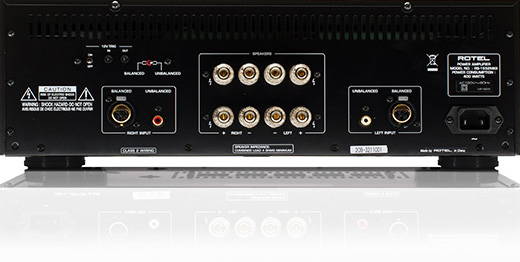 The RB-1552MKII is a 130-watt-per-channel Class A/B amplifier. It is designed to be strong and robust, yet capable of extracting every last nuance from the most complex musical score.
Rotel engineers' attention to detail means what we call our *Balanced Design Concept*. Every aspect of the design is scrutinized holistically to result in maximum audio performance; from selecting an oversized power supply with a highly efficient low magnetic field toroidal transformer to multiple high current output bipolar transistors. The circuit topology is planned, implemented, evaluated and adjusted to achieve optimal results. The RB-1552MKII features independent left and right power rectification and decoupling stages and is essentially a one-piece design. Further evidence of the design specification lies in the selection of premium 'slot film' capacitors, which provide plenty of reserve power for highly dynamic audio passages and are able to fill quickly due to the nature of their unique design. Input options are balanced XLR or unbalanced RCA connectors.
The RB-1552MKII stereo amplifier has been designed to deliver high-resolution audio performance, yet is very affordable, as has been the tradition of Rotel electronics for over 50 years.