Description
Key features
New 3-way speakers deliver clarity to sound while reducing distortion, regardless of volume.
Power (AC mode): 1x80W RMS-subwoofer + 2x40W RMS-midrange + 2x10W RMS-tweeter
Power (battery mode): 1x60W RMS-subwoofer + 2x30W RMS-midrange + 2x8W RMS-tweeter
Frequency response: 40 Hz - 20 kHz
JBL PartyBoost function
Bluetooth 5.3
Autonomy: max 24 hours
Charging time: 6.5 hours
Powerbank function
Water resistant IP 67
Tech specs
Link producător:
Dimensiuni produs
48.2 x 25.7 x 20.0 cm
Alte specificații
Specific features:
- Up to 2 devices can be connected wirelessly
-PartyBoost offers the possibility to connect two -or more- JBL PartyBoost compatible speakers for a stereo sound.
-Battery duration: up to 24h
-Battery charging time: approx. 6.5 h
Frequency response:
40Hz - 20kHz
Other features:
- 3.5 mm audio cable input
RMS power:
1x80W RMS-subwoofer + 2x40W RMS-midrange + 2x10W RMS-tweeter (connected to the electrical network)

1x60W RMS-subwoofer + 2x30W RMS-midrange + 2x8W RMS-tweeter battery operation)
Speaker type:
Active speakers
General presentation JBL Boombox 3 active speakers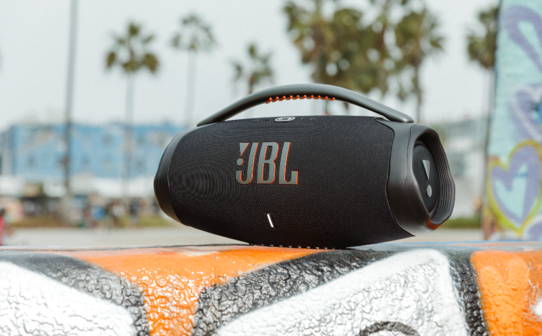 New 3-way speakers deliver clarity to sound while reducing distortion, regardless of volume.
Celebrate every moment with the sounds you love. From your early morning workout to a late night party with friends, we've added 24 hours of battery life to keep you in your element all day long.
At the pool. To the park. The JBL Boombox 3 is IP67 dust and water resistant, so you can bring your speaker anywhere, rain or shine.