Description
Key features
2-way active bookshelf speakers
Built-in fully digital amplifier
Total power RMS 70 W
Frequency response 76Hz - 21kHz
Dynamics 105.5 dB
1 inch aluminum LTS tweeters
Square Tractrix chimney 90x90
IMG 4" spun copper woofers
Bass-Reflex through the rear port
Strong, flexible removable magnetic grid
Tech specs
Dimensiuni produs
(W x H x D): 146 x 287 x 216 mm
Despre design și materiale
1" (2.5 cm) aluminum diaphragm compression tweeter coupled to a Tractrix® square horn
Woofer 4' IMG Spun-Copper
Sunet și detalii tehnice
Total power: RMS 70 W (140 W peak)
Frequency response: 76Hz - 21kHz
Dynamics: 105.5 dB
Crossover frequency: 1730 Hz (passive)
Conexiune
Bluetooth
RCA Phono/Line input
Input Aux Mini jack 3.5mm
USB-B input
Optical input
Subwoofer RCA output
Overview Active speakers Klipsch R-41PM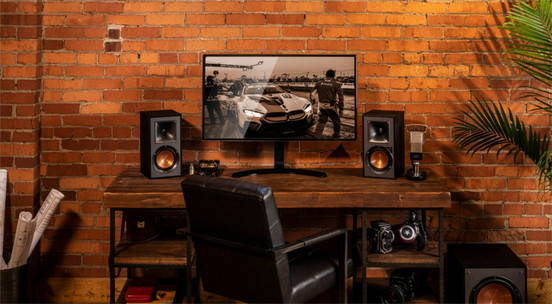 NO RECEIVER REQUIRED
Klipsch amplified speakers offer a full sound, without taking up much space, thanks to a built-in amplifier, designed especially for high-performance speakers, maximizing sound quality. With an integrated phono pre-amp, Bluetooth® wireless technology, digital optical, analog RCA and USB inputs, you can say goodbye to the bulky AV receiver.
fickle
Regardless of whether you connect to a pickup, TV, computer, smartphone, these amplified speakers are suitable for any situation. Diversified connectivity turns these amplified speakers into the best solution for home entertainment.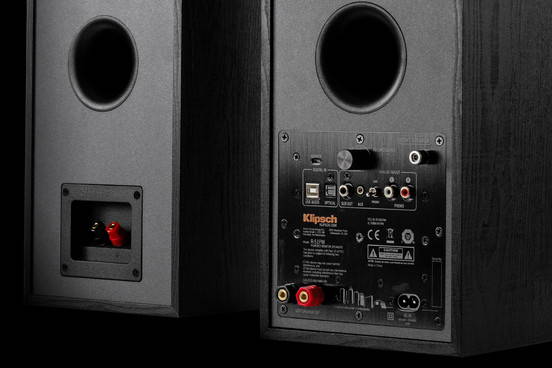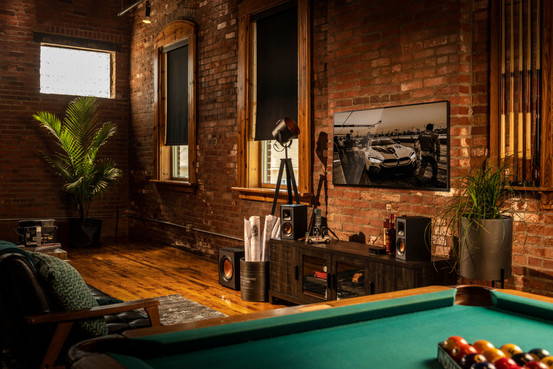 DYNAMIC BASS EQ
Because the human ear perceives frequencies differently, Klipsch's amplified speakers will dynamically match the ear's ability to hear low frequencies. Normally only available with A/V receivers, dynamic volume is a first for Klipsch monitors. The result is a strong bass when the listening volume is low.
CUSTOM-TUNED AMPLIFICATION
The amplified reference speakers use independent, ultra-quiet amplifiers, being designed to maximize system performance and eliminate the need for external amplification.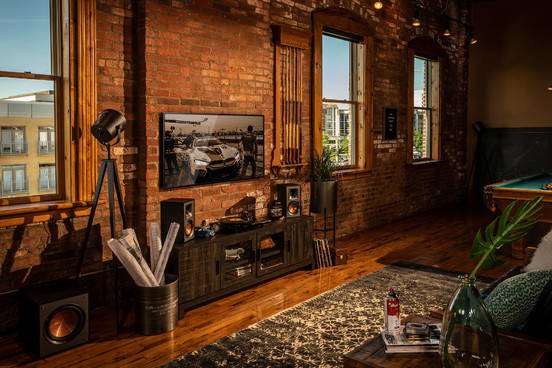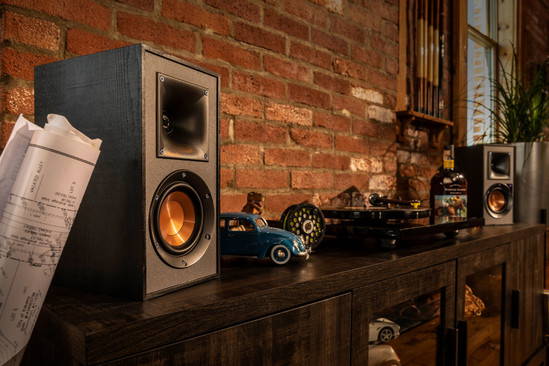 TRACTRIX® HORN TECHNOLOGY
The exclusive 90x90º Tractrix® technology ensures that the high frequency energy is directed towards the listener and reduces the artificial echo produced by indirect sounds reflected by the walls. Using this technology, you will get the best clarity, dynamics and detail from your favorite music and movies.
LINEAR TRAVEL SUSPENSION TWEETER
WITH KAPTON® SUSPENSION
Klipsch's exclusive LTS aluminum tweeters minimize distortion for enhanced, detailed performance.