Description
Key features
The Aria 906 meets all the qualities you can expect from the Aria series: refined high-precision acoustics, combined with premium materials for a classy design.

These bookshelf speakers allow users to enjoy all the unique qualities offered by the flax cone: neutrality, presence and finesse. The intention was a return to the very essence of music and its playback for those who are passionate. The F-cone is characterized by natural sound, reduced coloration, richness of reproduction in the middle register and articulated bass. The result is a more homogeneous sound, improved dynamics, all offered in a classic but modern design at the same time.

For the TNF tweeter, two major developments have been made in the aluminium/magnesium tweeter. The suspension between the dome and bracket uses Poron, a shape memory material. This method of acoustic suspension derives directly from the famous Utopia Beryllium tweeter, which makes it possible to reduce distortion by a factor of three in the 2-3kHz range, where the human ear has a very high sensitivity. The spatial characteristics of the inverted dome and the very low directivity already make it far superior to the conventional dome shapes used by other manufacturers. This guarantees a natural and stable stage, which makes the listening position much less critical.
Tech specs
Link producător:
Greutate produs
35 kg per piece
Dimensiuni produs
115 cm hx 37.1 cm L x 42 cm W
Alte specificații
| | |
| --- | --- |
| Description: | Floor speaker, 3-way design, front/floor bass-reflex |
| High speakers: | 25mm - Al/Mg TNF inverted dome tweeter |
| Mid speakers: | 16.5cm - Flax cone |
| Bass Speakers: | 2 x 21cm - Flax cones |
| Frequency response: | 37Hz - 28kHz |
| Sensitivity (2.83V/1m): | 92.5dB |
| Nominal impedance: | 8 Ohms |
| Crossover frequency: | 280Hz / 2600Hz |
| Speaker type: | Floor speakers |
Prezentare generala Boxe de podea Focal Aria 948
Sunet si design premium
Aceste boxe de podea permit utilizatorilor să se bucure de toate calitățile inedite oferite de conul proprietar din in (flax cone): neutralitate, prezență și finețe. Intenția a fost o revenire la însăși esența muzicii si redarea acesteia pentru cei care pasionați. Conul F se caracterizează prin sunetul natural, coloratie redusă, bogăția lor de reproducere în registrul mediu și basul articulat. Rezultatul este un sunet mai omogen, o dinamică îmbunătățită, tote acestea oferite intr-un design clasic dar modern in acelasi timp.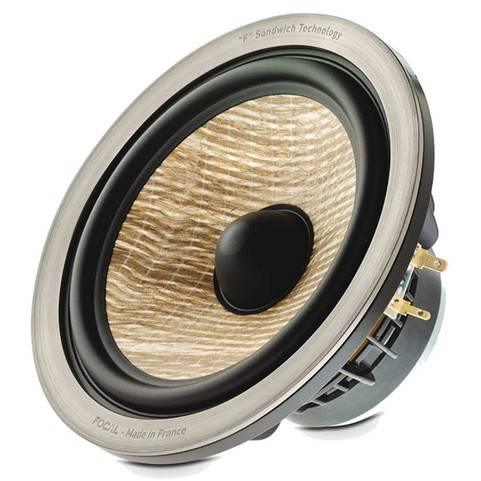 Conul F-Sandwich FLAX, original si inovator
Conul de in este fabricat în Franța exclusiv de Focal din 2013. Cu designul lor original, conul este orientat în întregime spre performanța acustică. Acestea sunt fabricate din fibre de înaltă calitate, închise de două straturi subțiri de fibră de sticlă. Conul F se caracterizează prin sunetul natural, colorarea redusă, bogăția lor de reproducere în registrul frecventelor medii și bas controlat. Masa redusa a fibrei îndeplinește criteriile de amortizare internă ridicată, viteză mare și rigiditate crescuta la încovoiere. Inul este de două ori mai ușor decât fibra de sticlă, deoarece fibra este goală la interior. De asemenea are o elasticitate foarte scăzută, ceea ce îl face ideal pentru creșterea rigidității la îndoire a intregii structuri sandwich.
Suspensie PORON


Pentru tweeter-ul TNF am adus două evoluții majore în tweeterul nostru din aluminiu / magneziu. Suspensia dintre dom și bracket foloseste Poron, un material cu memorie. Această metodă de suspendare acustica derivă direct din celebrul tweeter Utopia Beryllium, ceea ce face posibilă reducerea denaturării cu un factor de trei în gama 2-3kHz, unde urechea umană are o foarte mare sensibilitate. Caracteristicile spațiale ale domului inversat și directivitatea foarte scăzută o fac deja mult superioară formelor tip cupola convenționale folosite de alti producatori. Acest lucru garantează o scenă naturala si stabilă, ceea ce face ca poziția de ascultare să fie mult mai puțin critică.