Description
Key features
KEF Reference represents technological innovation to reproduce the most natural sound! And now the new generation Uni-Q 12 with Metamaterial raises the level of performance to new heights.

Floor speaker, 3-way design, bass-reflex

Speakers: 1 x tweeter 2.5 cm MAT + 1 x mid-woofer 12.5 cm + 2 x woofer 16.5 cm

Frequency response: 43 Hz – 35 kHz

Sensitivity: 87.5dB (2.83V @ 1m)

Nominal impedance: 4 ohm (min.3.2 Ohms)

Recommended amplification: 50 - 200 W
Tech specs
Link producător:
Dimensiuni produs
(HxWxD): 1155 x 205 x 462 mm
Alte specificații
Description:
Uni-Q Driver Arrays:
HF: 25 mm aluminum dome (1 in.).
with MAT
MF: 125 mm (5 in.) aluminum cone.
Bass Units:
LF: 165 mm (6.5 in.) aluminum.
cone
Harmonic distortion
<0.5% 40 Hz – 100 kHz
<0.2% 200 Hz – 2 kHz
<0.1% 2kHz - 20kHz
Speakers:
Frequency range (-6dB)
Short port: 38 Hz - 45 kHz
Long port: 35 Hz - 45 kHz
Frequency response:
43 Hz – 35 kHz
Sensitivity (2.83V/1m):
86dB
Nominal impedance:
4 ohms (min. 3.2 ohms)
Crossover frequency:
450 Hz, 2.1 kHz
Dimensions:
1155 x 205 x 462 mm
Weight:
51.3 kg
Dynamic Power:
113.5 dB
Speaker type:
Floor speakers
Overview of KEF Reference 3 Meta Speakers
Now with metamaterial absorption technology
The Reference has continuously set the benchmark for speakers since its launch in 1973. Perfect reproduction of recorded sound is what The Reference has always stood for. Pioneering the use of digital technologies to achieve the highest audio accuracy, each pair in The Reference Series can be matched to within half a decibel of the laboratory-maintained reference standard. The precise matching of the pairs provides perfect stereo reproduction, so these revolutionary speakers have won acclaim for their superior acoustic precision. From here the method became the name: Reference. Ever since the first generation, The Reference has been continuously improved by new innovations and technological developments. In its latest evolution, The Reference incorporates our latest innovation: Metamaterial Absorption Technology1 (MAT™) and continues to be the ultimate expression of the KEF philosophy, where advanced engineering meets inspired design. The Reference are speakers for serious audiophiles who aspire to the perfect enjoyment of music and movies. Whether used in a traditional two-channel HiFi system or in a multi-channel home theater, listeners will be able to experience realistic, immersive sound with astonishing dynamics and levels of precision that reveal previously unseen details.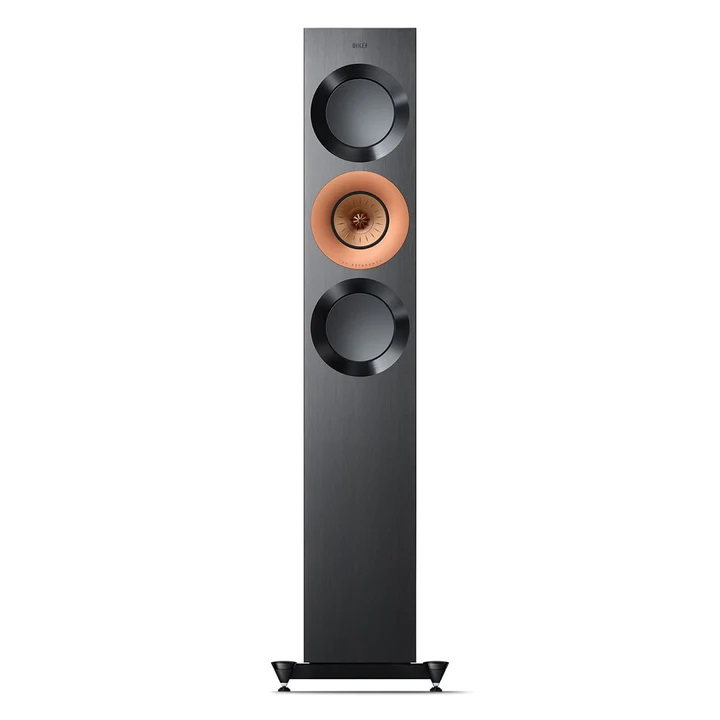 A class different from the rest
The Reference range includes two floor speakers, one bookshelf speaker and two three-way center speakers that can be used as left-center-right (LCR) speakers. Reference combines acoustic performance with modern design, offering a complete package. And now new technological advances make The Reference range even more impressive through the new 12th generation Uni-Q iteration with MAT. This new addition really puts The Reference range in a class of its own.
Revolutionary sound absorption with MAT™
A truly revolutionary tool in KEF's acoustic arsenal, Metamaterial Absorption Technology (MAT) is an extremely complex labyrinth-like structure, in which each of the intricate channels effectively absorbs a specific frequency. When combined, the channels act as an acoustic black hole, absorbing 99% of unwanted sound coming from behind the tweeter, eliminating the resulting distortion and providing a purer, more natural acoustic performance. As a result of joint development with the Acoustic Metamaterials Group, the use of MAT breaks completely new ground in speaker design and once again demonstrates KEF's unceasing passion for developing new technologies to enhance your listening experience. Metamaterials are specially developed structures that use existing materials in order to present new, desirable properties that are simply not found in natural substances.
Summary of features
• The absorption technology of metamaterials eliminates 99% of the sounds appearing behind the tweeter, thus providing unprecedented hearing
• Custom 12th generation Uni-Q with MAT driver array for exceptional acoustic precision
• Improved crossover design minimizes signal obstruction for maximum coherence
• Optimized enclosure design for minimal resonances; the enclosure does not color the sound
• Five models: Reference 1 Meta, Reference 3 Meta, Reference 5 Meta, Reference 2 Meta, Reference 4 Meta
• Available in 5 finishes
• Grille set for all Reference series speakers is available as a separate item