Description
Key features
83" TV with integrated audio system, wall mount
Designed for an immersive cinematic audio-visual experience
LG OLED 4K screen with Dolby Vision ™ HDR
Designer Torsten Valeur, Valeur Designers
Classic design, inspired by entertainment furniture from the mid-20th century, made of premium materials
Speakers: 1 x 1" tweeter, 2 x 2.5" fullrange drivers, 1 x 4" midrange/woofer, 2 x 4" woofers
Amplification: 1 x 50 watts for center tweeters, 2 x 50 watts for fullrange drivers, 3 x 100 watts for midrange/woofers
Frequency response 29 Hz - 22 kHz
Integrated 7.1 Surround mode
Adaptive Bass Linearisation
Surround extension with WISA speakers - 8 x powerlink + 8 x wireless powerlink
Chromecast built-in, Apple Airplay 2, Spotify Connect, DLNA, Bluetooth 4.2
Tech specs
Link producător:
Dimensiuni produs
120.8 hx 25 dx 208.5 w cm (closed); 164 hx 25 dx 208.5 w (open)
Alte specificații
Picture
Display type: 4K OLED
Resolution: 3840 x 2160
HDR, HDR 10, HDR 10 Pro, HLG, Dolby Vision IQ
Box
Active, integrated with 3 stereo channels (center and stereo)
Amplification
1 x 50 watts for center tweeter
2 x 50 watts for full range drivers
3 x 100 watts for midrange/woofers
loudspeaker
1 x 1" tweeter
2 x 2.5" full range drivers
1 x 4" midrange/woofer
2 x 4" woofers
Advanced functions
Integrated 7.1 surround mode
Adaptive Bass Linearisation
Sound modes and Speaker groups
TrueImage up and downmixing
Immaculate integrated wireless sound with the possibility of connecting up to 8 speakers
Answer in frequency
29Hz - 22,000Hz
HDMI AD sound format
Dolby Digital 5.1
Dolby Digital plus 7.1
DTS HD-Master Audio 7.1 and the underlying DTS formats
PCM 7.1 multichannel
Custom sound EQ
9 adjustable sound modes in the Bang&Olufsen application
Speaker groups
Yes, up to 8 speakers
The magic during the show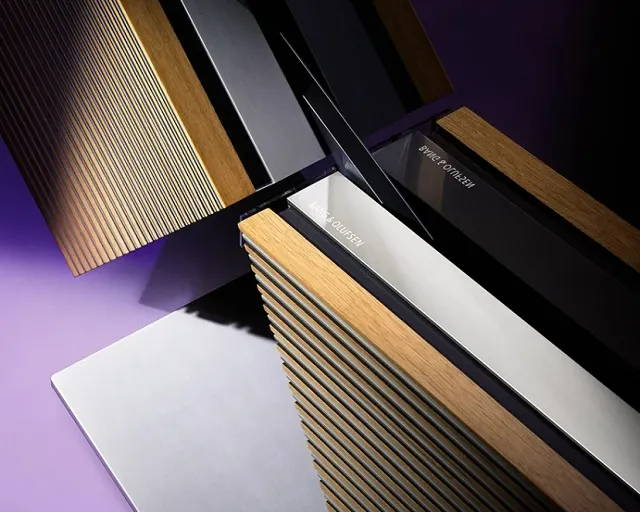 Motion. Picture.
Why let a blank screen rule your space when you can have a piece of art? Sculpted from wood or fabric and aluminum, Harmony commands attention and invites conversation even in standby mode. And when you're ready to watch, put on a show. The loud speakers split, the TV floats in space. A show that takes movie moments to new heights.
PERFORMANCE
For music and film lovers
Sound is more than half of the picture. Even with a generous screen size of 65, 77, 83 or 88 inches, Beovision Harmony combines exemplary sound and vivid images in an emotional cinematic performance. Behind the front panels hides a powerful Bang & Olufsen speaker that instantly grabs your attention. The 3-channel speaker design provides optimized sound for vocals and powerful stereo performance.
Want to experience an even deeper immersion? With its built-in intelligent surround sound processor, Harmony works seamlessly with Beolab speakers to boost bass, amplify accuracy and fully immerse you in sound.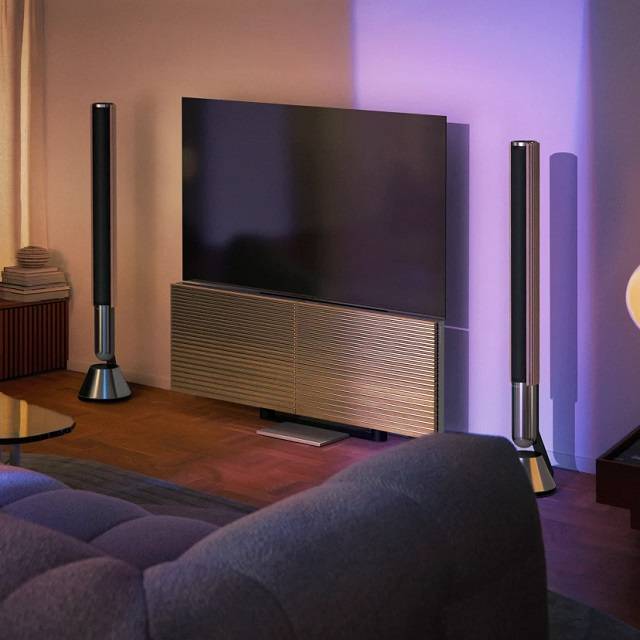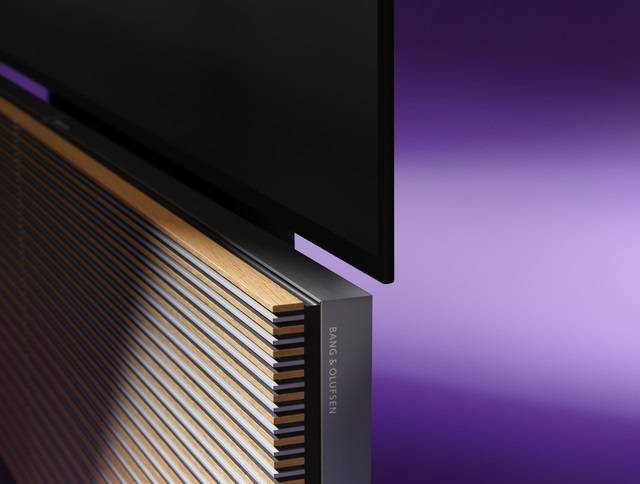 CONNECTIVITY
Streaming
Seamless integration with other devices and home control systems make Harmony the centerpiece of your entertainment. Play directly from your mobile phone via Apple AirPlay 2, Bluetooth or Chromecast built-in. In audio mode, useful things like radio station and artist information are elegantly displayed on the screen. State-of-the-art technology, simple to use. It's the magic of Bang & Olufsen at your fingertips.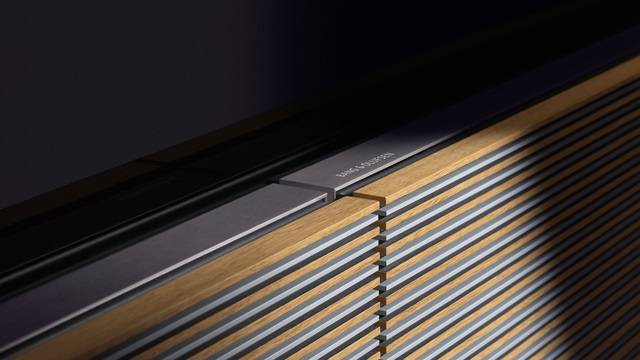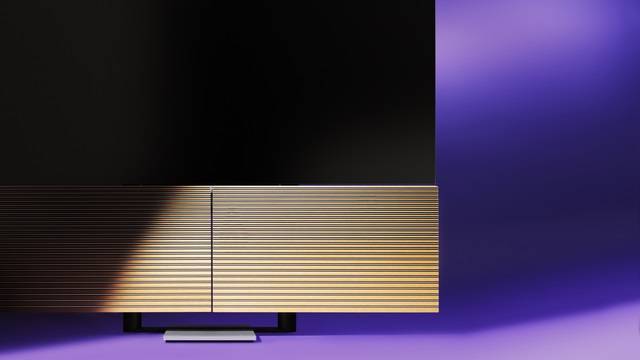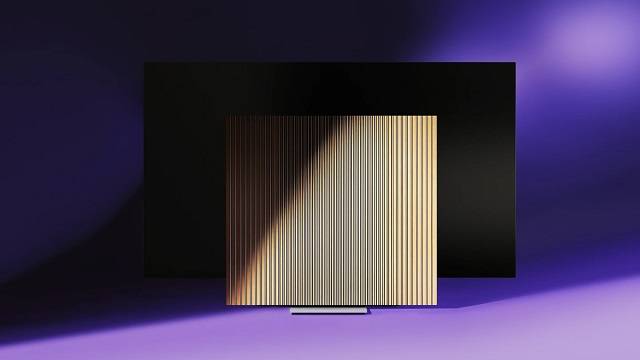 Oak veneer front panels are an outstanding example of craftsmanship, complementing the TV screen with furniture materials and elegant details. Despite their solid appearance, the panel pattern is carefully designed to maximize acoustic performance.
A revolution of resolution
Enjoy stunning color and fidelity as 33 million OLED pixels deliver 8k resolution on Harmony's 88" and 77" screens. Do you have a lower resolution source? AI deep learning automatically scales any resolution up to 8k, so even the classics stay sharp.
With 65", 77", 83" or 88" to choose from, your cinematic sculpture will be at home in any room. Enjoy unmatched richness of sound with outstanding resolution – at any scale.