Description
Key features
The Sennheiser SP30+ is a wireless portable speakerphone for conferences of up to 8 people, offering a natural conversation experience and exceptional sound performance with the renowned Sennheiser sound quality via Bluetooth or USB.

Frequency response: 100-20000Hz
Tech specs
Link producător:
Despre design și materiale
Funcții speciale
Noise Canceling Microphone
Multi-point connection
Voice Assistant
Sunet și detalii tehnice
Frequency response:
Audio mode: 100 Hz - 20000 Hz
Microphone: 150 Hz - 7500 Hz
Despre baterie și încărcare
Battery type: Lithium Polymer, 3.7V/1110 mAh, rechargeable
Charging time: 3h 20min
Autonomy: up to 18 hours
General presentation of EPOS | SENNHEISER - Speakerphone EXPAND SP30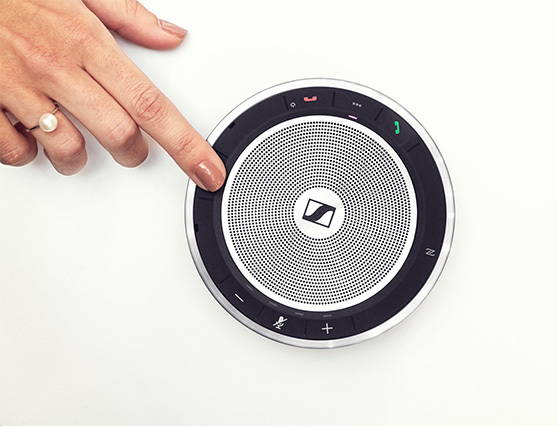 Wireless Speakerphone


Sennheiser SP30 is a portable wireless speakerphone for personal conferences of up to 8 people. The possibility of choosing Bluetooth or USB-C connectivity offers freedom and flexible connection options. Two long-range microphones, with noise and echo cancellation and a loudspeaker with minimal distortions and a clear voice reproduction, allow an easy conversation even in the most difficult environments.

Instant conferences, anywhere


With a lightweight design, the choice of Bluetooth or USB-C plug'n'play connectivity with up to three devices and one-touch access to the voice assistant
Exceptional performance


With Sennheiser Voice Clarity, speaker with minimal distortion and microphones with echo and noise cancellation are supported by advanced DSP algorithms.
A natural experience


Top performance that allows simultaneous dialogues.
Made for perfection


Built with premium materials, coils and secure dongle storage.