Description
Key features
Offering excellent audio qualities, both measurable and audible, NAD offers a versatile product that allows you to transfer your collection from analog LP format to digital format via the PP4.

Dosa preamplifier with USB recording

Compatible MM / MC

Selectable impedance for MC (100Ω + 180pF)

Gain @ 1kHz: 35 dB (MM) / 58 dB (MC)

RIAA standard ±0.3dB equalization curves

SNR > 78dB (MC) / > 80dB (MM)
Tech specs
Dimensiuni produs
135mm x 49mm x 72mm
Alte specificații
Input Impedance:
MC: 100Ω + 180pF / MM: 47kΩ + 200pF
Signal to noise ratio:
MC: 78dB / MM: 80dB
Input sensitivity:
MG: 0.3mV / MM: 2.5mV
Other features:
MC / MM: THD 20Hz – 20kHz < 0.03%
Line output: Impedance 100Ω
USB 16bit PCM output
General presentation USB Phono Preamplifier NAD PP 4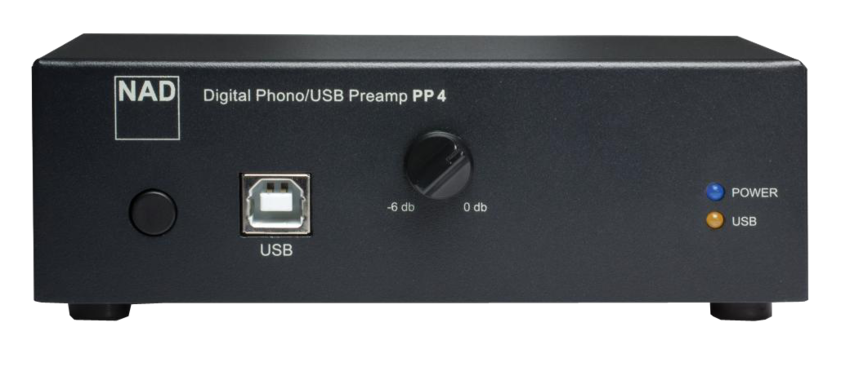 Save your vinyl collection in digital format at an audiophile quality
Offering excellent audio qualities, both measurable and audible, NAD offers a versatile product that allows you to transfer your collection from analog LP format to digital format via the PP4. The auto-off function ensures energy saving, the unit turning off when not in use.

The digital floor allows you to digitize your personal vinyl collection in a PC or Mac for both MM and MC doses. At the same time, we have included a line input to which you can connect a cassette player or tape recorder to transfer your favorite music to digital.


PP 4 VinylStudio Lite
PP 4 contains a new MAC and PC compatible version of AlpineSoft's VinylStudio Lite CD recording and writing software. Add track numbers, metadata and file management.