Description
Key features
9.2 / 7.2.2 / 5.2.4-ch sau 5.2 / 7.2-ch + Zone 2 / 3 (numai audio)
120 W/Ch (8 ohms, 20 Hz–20 kHz, 0.08% THD, 2-ch driven, FTC)
Impedanta boxe: 4 - 16 ohm
11.2 channel processing / 7.2.4 pre-outs
Dirac Live Room Correction
Gaming: HDMI 2.1, 4K/120Hz HDR pass through, VRR, ALLM, QFT
Discrete Zone 2 HDMI (video separat in alta camera)
Amplificator Phono - Doza MM
Bluetooth bi-directional (receiver si transmitter)
KLIPSCH optimize mode
THX Certified
Certified for IMAX Enhanced
Spotify Connect, Deezer, TuneIN, AirPlay 2,
SONOS Certified (necesita SONOS Port)
Chromecast built-in works with Ok Google
What's in the box
Cablu de alimentare
Antena FM/DAB
Antena AM
Microfon de calibrare
Telecomanda
2 x baterii AAA
Ghid de initializare rapida
Tech specs
Link producător:
Dimensiuni produs
(W x H x D): 435 x 201.5 x 398 mm
Alte specificații
Putere de iesire

250 W/Ch (6 Ω, 1 kHz, 10% THD, 1-ch driven)
120 W/Ch (6 Ω, 1 kHz, 1% THD, 2-ch driven,FTC)

Putere dinamica

250 W (3 Ω, Front)
220 W (4 Ω, Front)
130 W (8 Ω, Front)

Configuratie canale

9.2 / 7.2.2 / 5.2.4

Distorsiuni THD+N

0.08% (20 Hz–20 kHz, half power)

Raport S/N

106 dB (Line, IHF-A)
80 dB (Phono, IHF-A)

Raspuns in frecventa

5 Hz–100 kHz/+1 dB, -3 dB (Direct Mode)

Impendanta iesire

4–16 Ω

Sensibilitate

200 mV rms/47 kΩ (Line)
3.5 mV rms/47 kΩ (Phono MM)

Tuner

DAB (Europe) 174.928 MHz–239.2 MHz / FM 87.5 MHz–108 MHz / Internet radio

Memorie tuner

40 stations

Rezolutie video

max 8K UHD

Upscaling

1080p to 4K/8K, 4K to 8K

Codecuri video

HDR 10, HDR 10+, HLG, BT2020, QMS, Dolby vision, HDCP 2.3

Streaming

Amazon Music
Deezer
Spotify
Tidal
TuneIn

Conectivitate

Bluetooth 4.2
Wifi 2.4GHz/5GHz

Codecuri audio

Dolby Atmos
DTS:X
Dolby True HD
THX Certified
DTS HD Master Audio
Dolby Atmos Height Virtualizer 3D
IMAX Mode
Dolby Surround
DTS Neural:X 3D

Codecuri BT

AAC, SBC, aptX, aptX HD

Formate audio

MP3, WMA, WAV, AIFF, AAC,
FLAC, ALAC, DSD

Asistent vocal

Alexa, Google Assistant, Siri

Aplicatii de control

Roon Ready
Apple Airplay 2
Sonos
DTS Play-Fi
Chromecast
Proprietary App

Conexiuni intrare

7 x HDMI
1 x Coaxial
1 x Optical
1 x Phono MM
6 x RCA
1 x Ethernet
2 x USB 2.0

Conexiuni iesire

2 x HDMI
2 x Pre-out subwoofer
6 x Pre-out
1 x Jack 6.3mm Casti

Consum

870 W
Prezentare generala Receiver ONKYO TX-RZ50
Receptor AV certificat THX pe 9.2 canale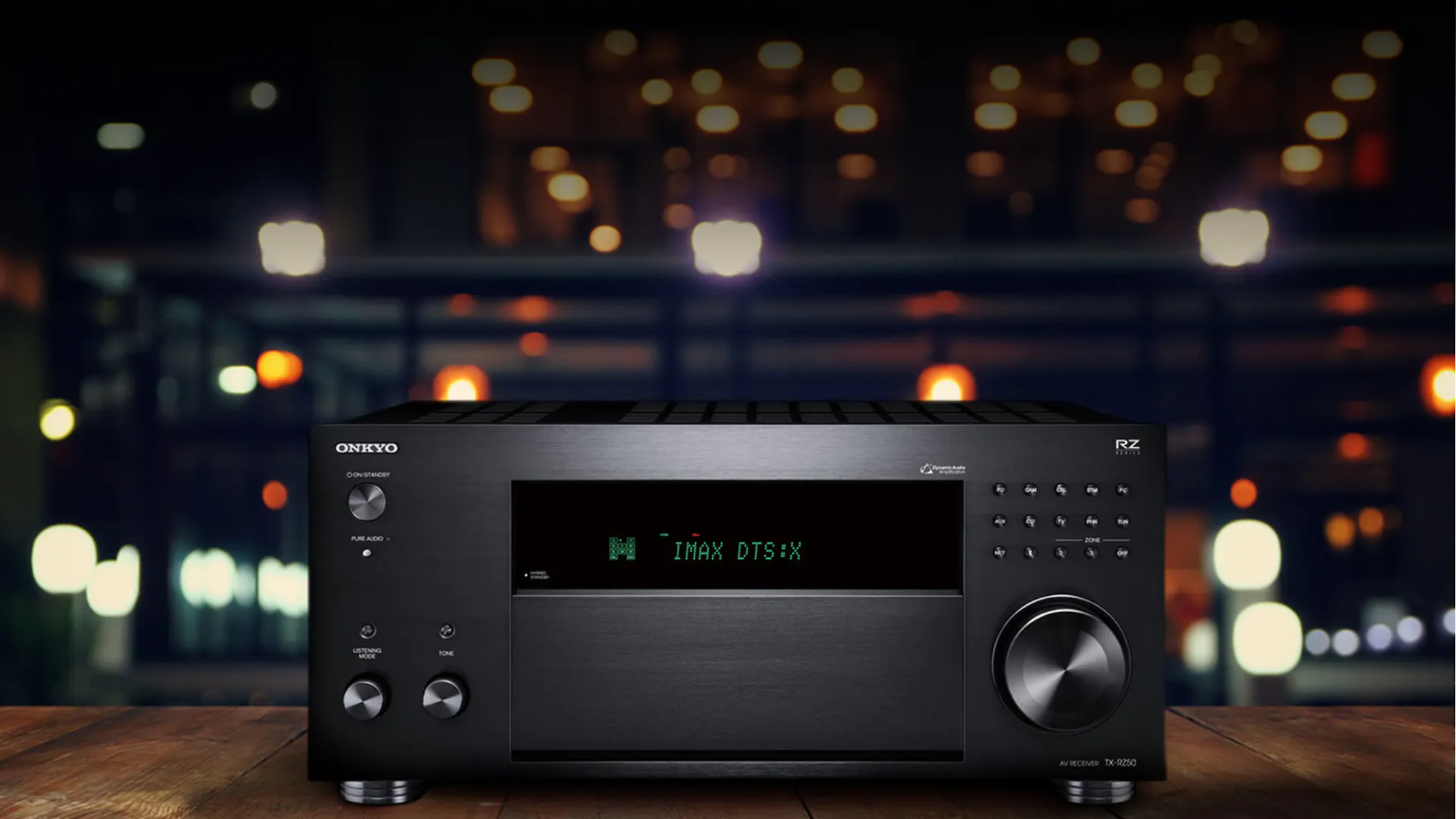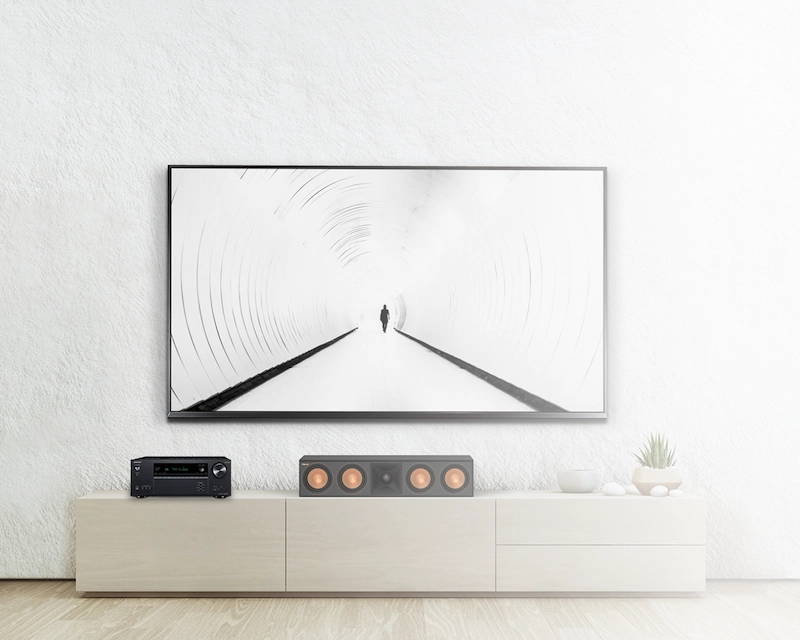 Modul de optimizare Klipsch
Modul Klipsch Optimize vă permite să integrați cu ușurință difuzoarele Klipsch Reference și Reference Premiere cu receptorul AV Onkyo. Klipsch și Onkyo au făcut echipă pentru a implementa valorile de încrucișare precise pentru anumite difuzoare noi Reference Premiere. Acum, puteți selecta pur și simplu modelele de difuzoare pe care le veți utiliza pentru fiecare canal în parte, iar setarea de crossover optimizată va fi aplicată automat.
Scoateți camera din ecuație
Tehnologia de ultimă oră Dirac Live Room Correction deblochează întregul potențial al difuzoarelor dvs., îmbunătățind performanța audio pe întreaga bandă de frecvență fără upgrade-uri suplimentare. Dirac Live calibrează automat sunetul din camera dvs. folosind fie smartphone-ul și microfonul cu fir inclus, fie practic wireless cu aplicația Dirac Live PC sau MacOS și un microfon USB terță parte (nu este inclus). Acum, veți obține o măsurare mai precisă a poziționării sistemului de sunet surround pentru a fi mai precisă și echilibrată, oferind un rezultat mai bun cu limita superioară crescută a timpului de întârziere de la 20 la 50 de milisecunde.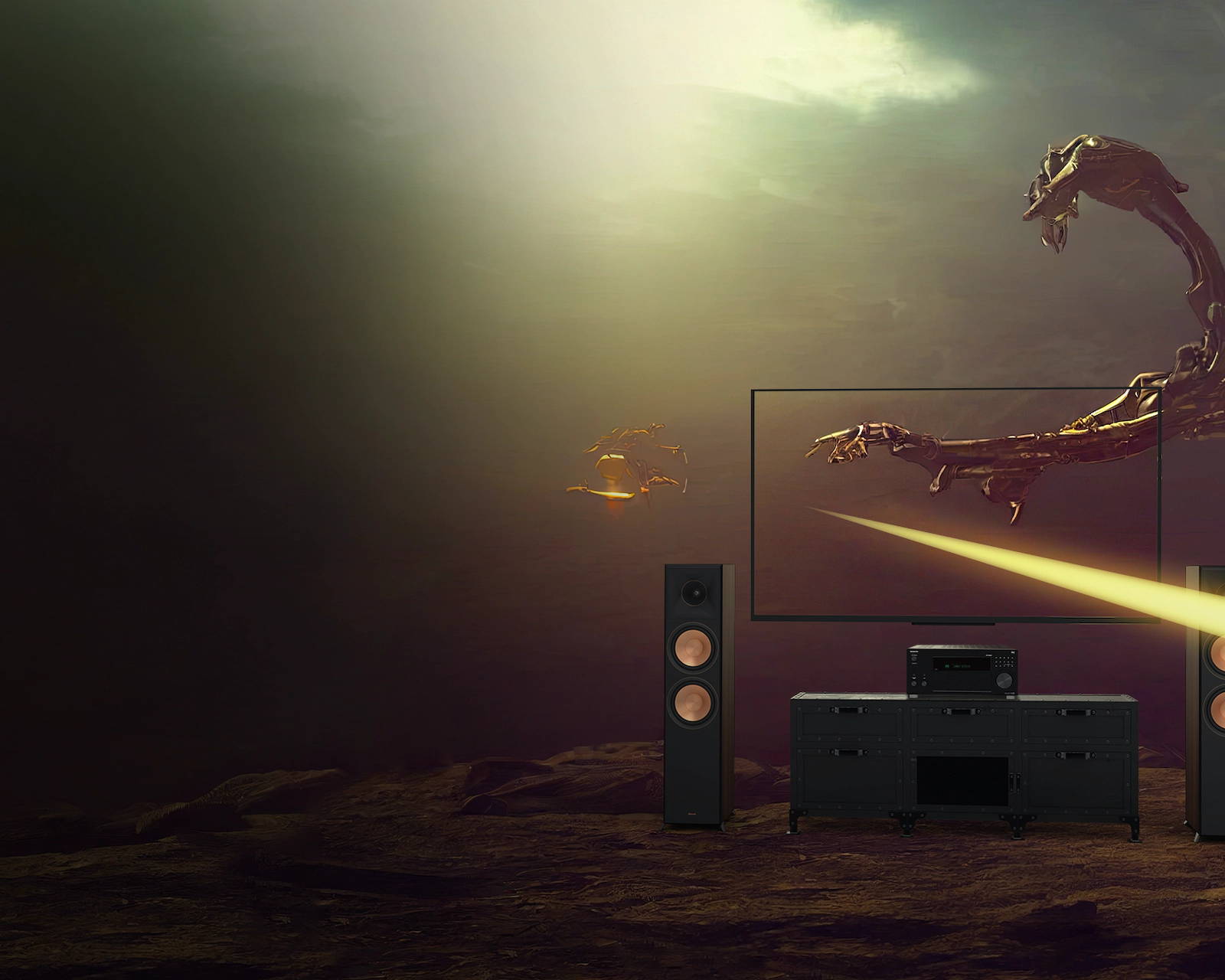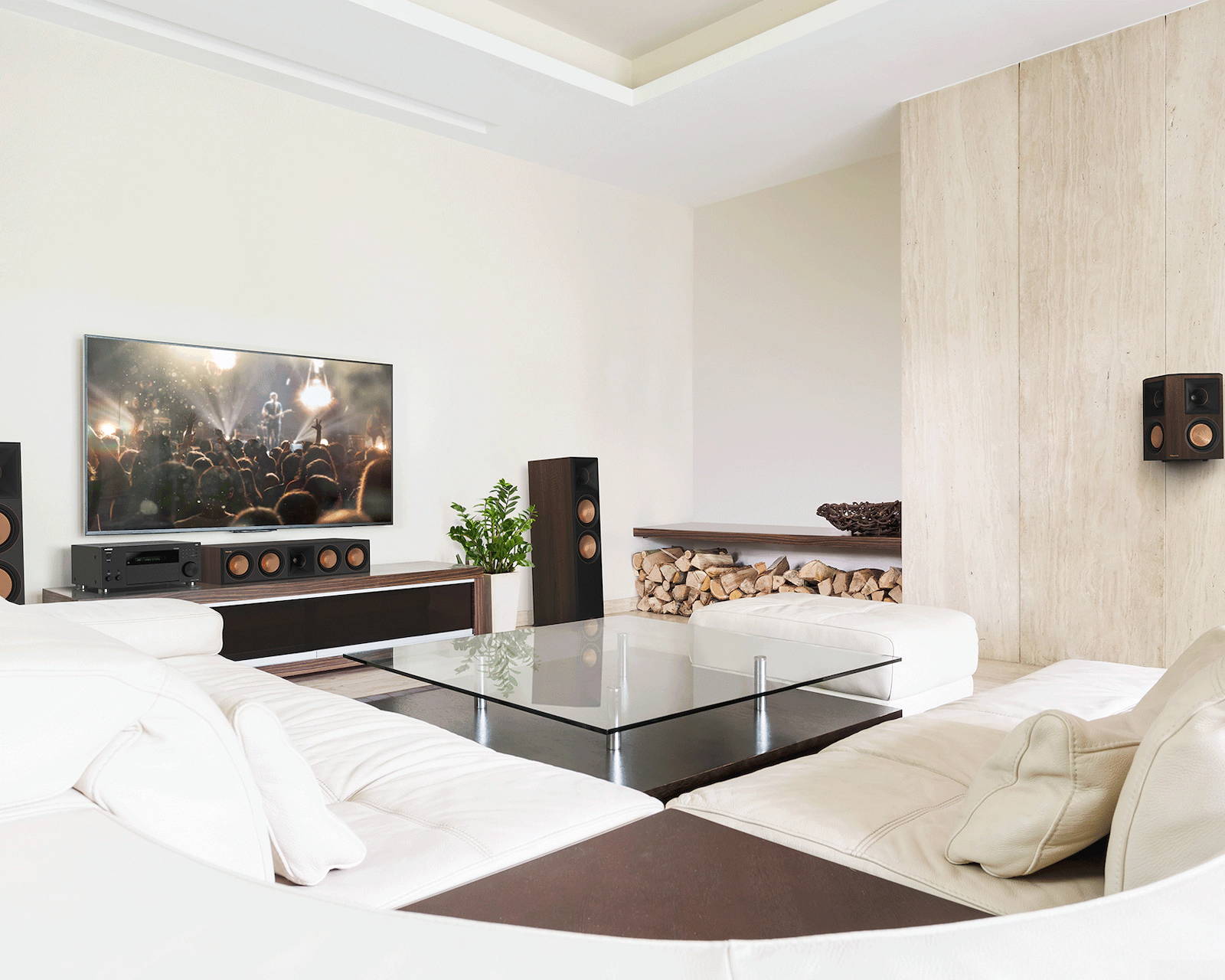 11.2-Procesare pe canale
TX-RZ50 dispune de procesare de până la 11.2 canale și pre-outs pentru layout-uri de sistem 7.2.4, făcându-l o alegere ideală pentru configurarea home theater premium.
HDMI 2.1 cu 8K
HDMI 2.1 este cea mai recentă actualizare a specificațiilor HDMI și acceptă eARC, o gamă de rezoluții video mai mari și rate de reîmprospătare, inclusiv 8K60 și 4K120 și formate Dynamic HDR. 8K oferă o experiență de vizionare super captivantă, cu rezoluția orizontală și verticală de 2 ori mai mare de 4K și de 4 ori mai mulți pixeli; și combinat cu rata de reîmprospătare de 60 Hz permite vizualizarea lină și clară a conținutului cu acțiune de mare viteză. HDMI 2.1 cu 8K și eARC asigură că sistemul dumneavoastră este pregătit pentru cea mai clară și mai curată imagine disponibilă acum.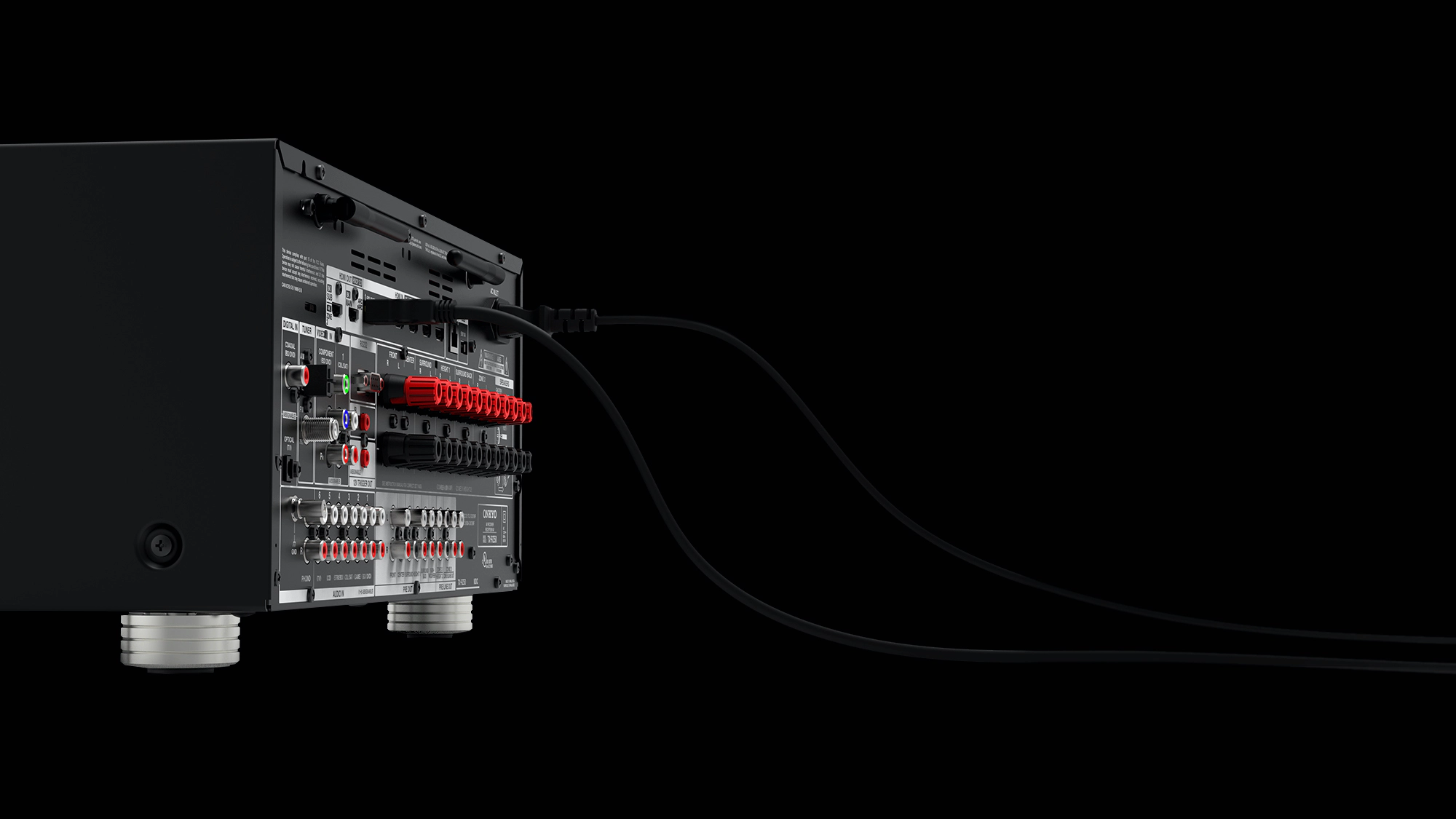 Caracteristici suplimentare
EXPERIENȚĂ SUPREMĂ DE JOC 4K
4K/120 permite imaginilor UHD cu mișcare ultra-rapidă să fie clare și clare; iar sporturile, filmele de acțiune și jocurile de înaltă performanță beneficiază în mod semnificativ. TX-RZ50 acceptă performanțe mai mari de la dispozitive de streaming precum cel mai recent Apple TV.
COMUTARE
DISCRETĂ
HDMI ÎN ZONA 2
Configurați diferite opțiuni de divertisment Ultra High-Definition cu rezoluție de până la 8K60* în două camere diferite de la receptorul Onkyo. Vizionați un film în home theater, în timp ce copiii urmăresc desene animate în camera lor de joacă.*
*8K60 valabil numai pentru Zona 1/Zona 2 va produce doar rezoluție 4K120 atunci când sunt utilizate două surse HDMI separate.
CERTIFICAT THX
În 1993, Onkyo a devenit primul brand de produse electronice home theater care a fost certificat THX. Cu literalmente mii de teste, înainte de a câștiga sigla de certificare THX: indiferent de intrarea utilizată, indiferent de combinația numeroaselor funcții încorporate pentru AVR, preamplificator sau amplificator, nu poate fi absolut nimic adăugat, nimic luat. departe de materialul sursă. TX-RZ50 oferă patru moduri distincte de ascultare THX: cinema, gaming, muzică și surround EX.
STREAMING ÎN MAI MULTE ZONE ȘI CONTROL VOCAL ÎNCORPORAT
Receiverul AV certificat THX® Onkyo TX-RZ50 cu 9.2 canale se integrează cu ușurință în ecosistemul dvs. Smart Home existent, inclusiv Apple Airplay, Alexa, aplicațiile Google și multe altele. Obțineți un dispozitiv de rețea foarte capabil și compatibil, care vă poate transmite în flux preferatele oriunde doriți, în casa dvs., cu o rezoluție de până la 8K60.
FUNCȚIONEAZĂ CU CERTIFICAT SONOS
Acest receptor Onkyo se poate alătura sistemului dvs. de sunet Sonos Home existent sau poate fi începutul unuia nou, doar prin asocierea acestuia cu un port Sonos*. Acest AVR Funcționează cu Sonos Certified AVR oferă cea mai bună legătură din clasă cu ecosistemul Sonos. , trezirea, schimbarea intrărilor și redarea la volumul dorit folosind funcția Sonos Volume-Pass Through din aplicația Sonos*. TX-RZ50 poate funcționa cu până la trei porturi Sonos — câte unul pentru fiecare dintre cele trei zone independente — fiecare redând un serviciu de streaming complet diferit de la Sonos Radio.
*Este necesar portul Sonos și se vinde separat.
SERVICII DE STREAMING ÎNCORPORATE
Accesul la Spotify, TIDAL, Deezer, TuneIn integrate
în sistem. Utilizați aplicații dedicate (acolo unde sunt disponibile) sau aplicația gratuită Onkyo Control pentru dispozitivele Apple și Android pentru a găsi și a reda muzică.
TEHNOLOGIE FĂRĂ FIR BLUETOOTH BIDIRECȚIONALĂ
Acest Onkyo AVR poate trimite și primi sunet prin tehnologia wireless Bluetooth. Transmiteți în flux de pe dispozitivul dvs. la receptor utilizând codecuri SBC sau AAC sau transmiteți redarea audio prin AVR către căști fără fir compatibile folosind codecuri SBC, aptX sau aptX HD, inclusiv audio pe 24 de biți prin aptX HD. Capacitățile îmbunătățite de transfer de date ale celei mai recente generații de Bluetooth asigură o reproducere clară și fiabilă a sunetului, astfel încât să auziți melodiile preferate așa cum a intenționat inginerul de înregistrare.
PREGĂTIT PENTRU DTS PLAY-FI
DTS Play-Fi vă permite să vă bucurați de muzică de înaltă calitate de la servicii online conectate, servere media în rețea și biblioteca dispozitivului dvs. prin Wi-Fi la orice număr de produse compatibile folosind aplicația Onkyo Music Control pentru iPad, iPhone și smartphone-uri Android /tablete. DTS Play-Fi poate sincroniza muzica din fiecare cameră. Fiecare membru al familiei tale își poate folosi propriul dispozitiv pentru a-și asculta muzica într-o cameră sau într-un grup de camere. DTS Play-Fi vă permite să structurați un ecosistem cuprinzător cu mai multe camere, care satisface practic orice nevoie.