Description
Key features
Using the same 10" speakers found on the 800 D3 model, and a high-efficiency 1000w amplifier, the DB2D features intelligent DSP to optimize bass in any room.

Power: 1000 W
Frequency: 10 Hz - 350 Hz
Tech specs
Link producător:
Dimensiuni produs
430 mm h x 377 mm L x 360 mm W
Despre difuzor
Speakers: 2 x 250mm (10in) Aerofoil-cones in balanced configuration
Arhitectura subwoofer
Closed premises
Removable grid
Amplificator subwoofer
Class D Hypex 1000 W amplifier
Digital preamplifier with dynamic EQ
Setari si control
App-based set-up and BT-LE control
2 x 3.5mm 12V triggers
RS-232 - 9-pin D connector
General presentation Bowers & Wilkins DB2D Piano Black Gloss Subwoofer
Power and control
Digital signal processing provides impact and control to your favorite movie effects and music, excelling in home cinema, and agile and precise enough to bring stereo recordings to life.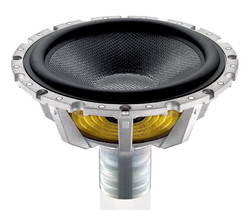 Lively and strong
The Aerofoil™ bass speaker delivers solid, dynamic bass thanks to the rigid construction of the extremely lightweight cone with variable thickness and unique shape.
A matter of balance
Speakers positioned back to back cancel the resonances of the enclosure, ensuring that all the power is used to deliver a deep bass, thus eliminating unwanted vibrations.